CONNECTED SUPPLIER PARTNERSHIP PROGRAM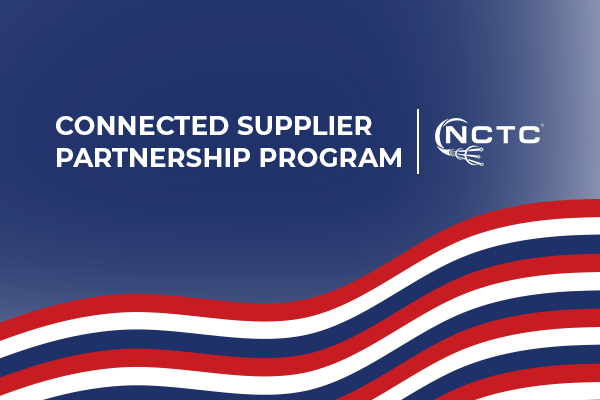 Our Connected Supplier Partnership Program is designed to serve members and support suppliers because all of us are STRONGER TOGETHER!
The NCTC greatly respects our partnerships with members and suppliers. We are committed to serving as a consistent link between members and suppliers, offering education, innovation, speed to market, operational efficiencies, and value-- so we all grow together.
To support these mutually beneficial relationships, we recently launched a state-of-the-art eCommerce Marketplace and added strategic resources. Now, we are taking our supplier partnerships to the next level through a transformation of our Connected Supplier Partnership Program. This strategic evolution benefits all of us—our 700+ active member companies, suppliers, and the NCTC— by creating exceptional value through collective power!
Frequently Asked Questions
What is the new NCTC Connected Supplier Partnership Program?
This program solidifies mutually beneficial relationships and commitments by delineating the responsibilities and benefits of both the NCTC and the supplier partner. The program is called "Connected" because our goal is to connect our suppliers with the right audience at the right time, saving NCTC members time, money, and critical resources.
How does the NCTC Connected Supplier Partnership Program work?
This program is comprised of three different supplier partner levels: Premier Partner, Preferred Partner, and Approved Partner. Each level has specific benefits that will help expand your reach within the NCTC and our members. From customized go-to-market strategies to lead generation, we have a program that is right for you!
Can a supplier's partner status change over time?
Absolutely! As your business grows, our level of commitment to you grows as well.
How can a supplier participate in the program?
A fully executed agreement between the NCTC and the supplier is required to reap the full benefits of NCTC's Connected Supplier Partnership program.
How do I learn more?
Email nctcpartnerships@nctconline.org to learn more about the NCTC Connected Supplier Partnership Program.